Below is a map and a list of all county atlases and similar publications for grasshoppers, crickets and allied insects - it's great to see that there are so many.
If you have a copy or a scan of any which do not have a link below and which could be put up here for download, please send it to orthoptera@ceh.ac.uk. If you have any additions or spot any mistakes, please also let us know.
And if you want to write an atlas for a county which is not yet covered we will be very happy to support you!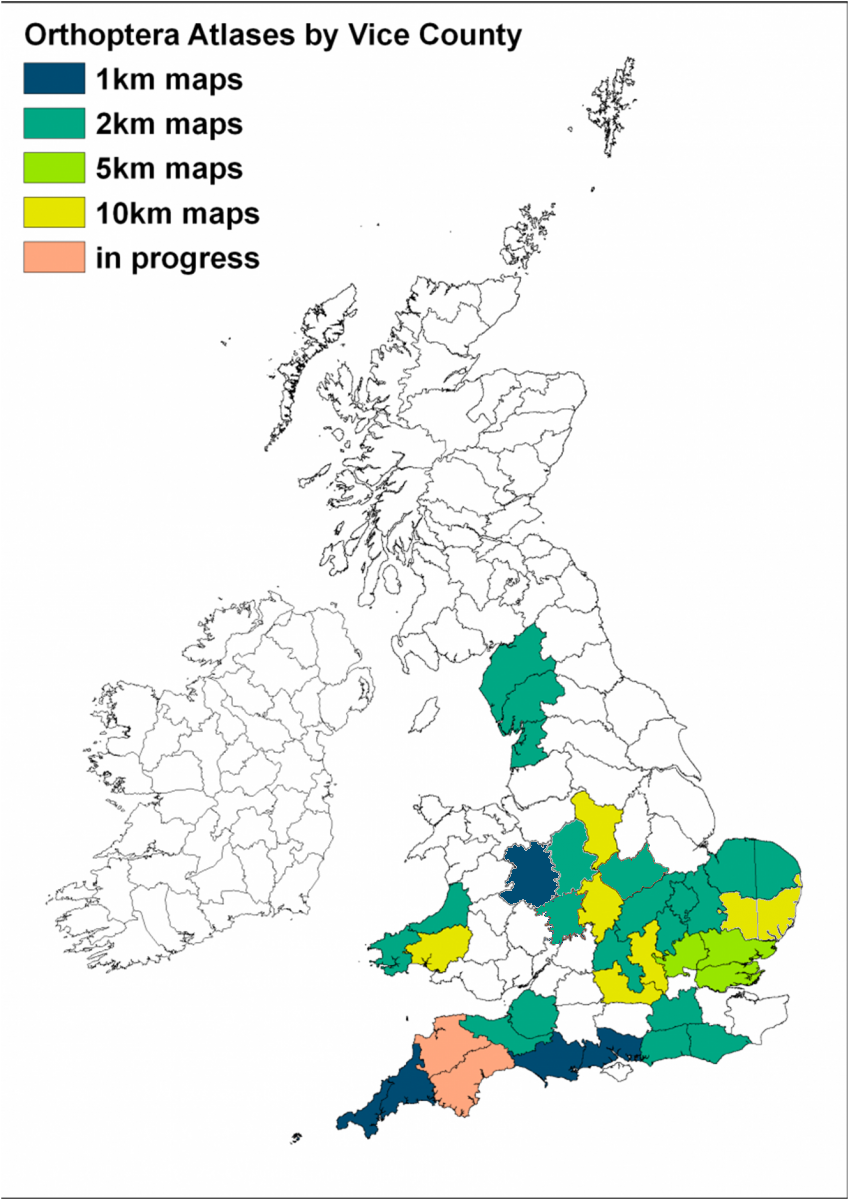 County name

Vice County number

Scale of maps

Date

Title

Author

Publisher

Cornwall and Isles of Scilly

1,2

10km

1990

Grasshoppers and Related Insects of Cornwall

E.C.M. Haes

Cornish Biological Records Unit, Redruth. Cornish Biological Records 12 (1990).

Cornwall and Isles of Scilly

1,2

1km

1999

Orthopteroid Insects of Cornwall and the Isles of Scilly: a revised provisional atlas

E.C.M. Haes

Cornwall and Isles of Scilly Federation for Biological Recorders. Occasional Publication no. 1.

Cornwall and Isles of Scilly

1,2

2km

2004

Orthopteroid Insects of Cornwall and the Isles of Scilly: an updated provisional atlas

E.C.M. Haes

Cornwall and Isles of Scilly Federation for Biological Recorders. Occasional Publication no. 2.

Devon

3,4

10km

1987

Grasshoppers, Crickets and Bush-crickets in Devon

M. Davies

Nature in Devon, 8: 45-64. (click here to download Pdf, 5MB)

Somerset

5,6

2km

2011

The Orthoptera and allied insects of Somerset

Robert S. Cropper

Published by the author.

https://www.pemberleybooks.com/product/the-orthoptera-and-allied-insects...

Wiltshire

7,8

locality lists, no maps

1957

Wiltshire Orthopteroids

D.K.McE. Kevan

Dorset

9

1km

2011

The Grasshoppers, Bush-crickets and Allies of Dorset

Bryan Edwards

Dorset Environmental Records Centre

Dorset

9

1 km

1992

The Distribution of Orthoptera in Dorset.

A. Mahon

Recording Dorset 2: 2-9 (click here to download Pdf, 16MB)

New Forest

part of 11

1km

1985

Orthoptera of the New Forest and its Environs. Species distribution maps 1980-85.

A.R. Welstead & N.I. Welstead

Privately published. Hythe.

Sussex

13,14

2km

1972-76

Orthoptera in Sussex

E.C.M. Haes

Entomologist's Gazette 23:167-168 (click here to download Pdf, 1MB)
Entomologist's Gazette 24:29-46 (click here to download Pdf, 7MB)
Entomologist's Gazette 27:181-202 (click here to download Pdf, 9MB)

Sussex

13,14

10km

2002

Sussex Orthoptera Atlas Online

J. Paul

not currently available

Surrey

17

2km

1999

Grasshoppers and Crickets of Surrey

David W. Baldock

Surrey Wildlife Trust

https://www.surreywildlifetrust.org/cy/shop#!/Grasshoppers-and-Crickets-...

Essex

18,19

5km

1997

Grasshoppers and Crickets (Orthoptera) of Essex

Alan Wake

Colchester Natural History Society

https://www.nhbs.com/grasshoppers-and-crickets-orthoptera-of-essex-book

https://www.essexfieldclub.org.uk/portal/p/Essex+Grasshopper+Recording

Hertfordshire

20

5km

1991

Hertfordshire Orthoptera & related insects

John Widgery

Hertfordshire Natural History Society Transactions, Vol 31, Part 1, pp 18-24. May 1991.

London

20,21

locality lists, no maps

1958

The Distribution of grasshoppers and allied insects in the London area.

R.M. Payne

Lond. Nat. 37: 102-115.

Berkshire, Buckinghamshire and Oxfordshire

22,23,24

10km

1989

Grasshoppers and Crickets of Berkshire, Buckinghamshire and Oxfordshire

John Paul

Pisces, Oxford.

https://www.pemberleybooks.com/product/grasshoppers-and-crickets-of-berk...

Oxfordshire and part of Berkshire

23 and part of 22

2km

1984

An Atlas of Oxfordshire Orthoptera

D. Sheppard & J.M. Campbell

Oxfordshire County Council (click here to download Pdf, 2MB)

Suffolk
25, 26
10km
2000
Orthoptera of Suffolk
S.J. Ling
Trans. Suffolk Nat. Soc. 36 (2000) (click here to download Pdf, 3MB)

Norfolk

27,28

2km

2001

Grasshoppers and allied insects of Norfolk

D.I. Richmond

Norfolk and Norwich Naturalists' Society Occasional Publication no.7 (updated annually)

https://norfolknaturalists.org.uk/wp/publications/species-guides/

Cambridgeshire

29

2km

1998

A provisional atlas of bush-crickets, grasshoppers and allied insects in 'old' Cambridgeshire

A. Colston

Nature in Cambridgeshire 40: 20-36 (click here to download Pdf, 2MB)

Bedfordshire

30

2km

1978

The distribution of Common Bush-crickets and Grasshoppers in Bedfordshire

D.G. Rands

Bedfordshire Nat. 32: 25-30.

Huntingdonshire

31

2 km

1998

Orthopteroids in Huntingdonshire

A. Colston

Anniversary Review 1948-1998, 53-65. Huntingdonshire Fauna and Flora Society. (click here to download Pdf, 3MB)

Northamptonshire

32

2km

2000

A provisional atlas of bush-crickets, grasshoppers and allied insects in Northamptonshire

A. Colston

Nature in Northamptonshire 1 (click here to download Pdf, 7MB)

Gloucestershire

33,34

locality lists, no maps

1965

Synopsis of the Information available concerning Dictyoptera, Orthoptera and Dermaptera in Gloucestershire

R.S. George

Proc. Cotteswold Nat. Fld Club 31: 196-203.

Worcestershire
37
2km
2014
Worcestershire's Orthoptera: An Identification Guide to the
Grasshoppers, Crickets & Allied Insects of Worcestershire
Gary A. Farmer
https://worcestershireorthoptera.weebly.com/guide.html

Warwickshire

38

10km

1984

Distribution Atlas: Orthopteroids in Warwickshire.

P. Copson

Warwick Museum, Warwick.

Staffordshire
39
2km
2014

An Online Atlas of the Orthopteroid Insects of Staffordshire

Andy Jukes

online atlas at:

http://www.staffs-ecology.org.uk/html2010/index.php5?title=Atlas_of_Grasshoppers_and_allies_of_Staffordshire#

Shropshire
40
1km
2020

Shropshire Orthoptera and Allies Atlas

and Guide to Shropshire Orthoptera and Dermaptera

David W. Williams

Field Studies Council

atlas: https://www.fscbiodiversity.uk/fullscreen/orthopteraatlas

guide: https://www.fscbiodiversity.uk/sites/default/files/Guide_to_Shrops_Ortho...

Carmarthenshire

44

10km lists, no maps

1984/5

Orthoptera (Grasshoppers, Bush-crickets and Crickets) in Carmarthenshire

I.K. Morgan

Llanelli Naturalist Newsletter, Dec 1984 and March 1985 (click here to download Pdf)

http://www.llanellinaturalists.org.uk/index.php/December-1984/invertebrate-recording-1984-odonata-orthoptera-syrphidae.html

Pembrokeshire

45

2km

1985

Orthoptera of Pembrokeshire (V.C. 45). A tetrad survey to 1984.

J.C. Comont

Unpublished.

Ceredigion / Cardiganshire

46

2km

1992

Provisional Distribution Maps for the Orthoptera of Ceredigion

A.P. Fowles

Countryside Council for Wales (click here to download Pdf, 11MB)

Dyfed

44,45,46

10km

1986

Crickets and Grasshoppers in Dyfed

A.P. Fowles

Dyfed Invertebrate Group Newsletter 1:7-12 (click here to download Pdf)

This, and subsequent observations available at:
http://yrefail.net/dig/DIG_contents.htm

Rutland

part of 55

2km

2021

The Orthoptera of Rutland

P. Rudkin

Leicestershire Entomological Society. LESOPS 37, March 2021.

https://www.nhbs.com/the-orthoptera-of-rutland-book?ad_id=3979

Derbyshire

57

10km

1991

The status of grasshoppers and crickets in Derbyshire

Roy Frost

Journal of the Derbyshire Entomological Society, no 105, 1991, pp12-21.

North Lancashire and South Cumbria
60, 69
 
2015
Orthoptera of north Lancashire and south Cumbria
Michael Foley
self-published by the author (out of print, click here to download Pdf)

North Lancashire

60

2km

1997

Orthoptera of North Lancashire

Jennifer Newton

Lancashire and Cheshire Entomological Society, Annual report and proceedings for 1997-99, Vols 121-123 pp. 12-23.

Cumbria

69,70

2km

1993

Grasshoppers and Crickets in Cumbria

Jennifer Newton

Cumbria Biological Records Centre at Tullie House Museum, Carlisle. Correspondence to Keeper of Natural Sciences, Tullie House Museum, Castle Street, Carlisle, CA3 8TP.

Online atlas used to be at: http://www.lakelandwildlife.co.uk/grasshoppers.htm

Jersey
113
locality lists, no maps
1994
The Orthoptera of Jersey, Channel Islands
John Paul

Entomologist's Gazette, 1994, 45: 185-195. (click here to download Pdf, 15MB)